How does the Zoom Whiteboard Work?
Zoom recently launched the all-new Whiteboard feature. The Whiteboard is a cross-platform visual collaboration solution that is built right into Zoom Meetings, the Zoom desktop client, and the Zoom web portal. The Zoom Whiteboard offers a virtual space for your attendees to brainstorm and collaborate on a persistent, expandable, digital canvas. This feature is included with all Zoom accounts, so there is no need for any additional setup or configuration.
Here's how the Zoom Whiteboard looks: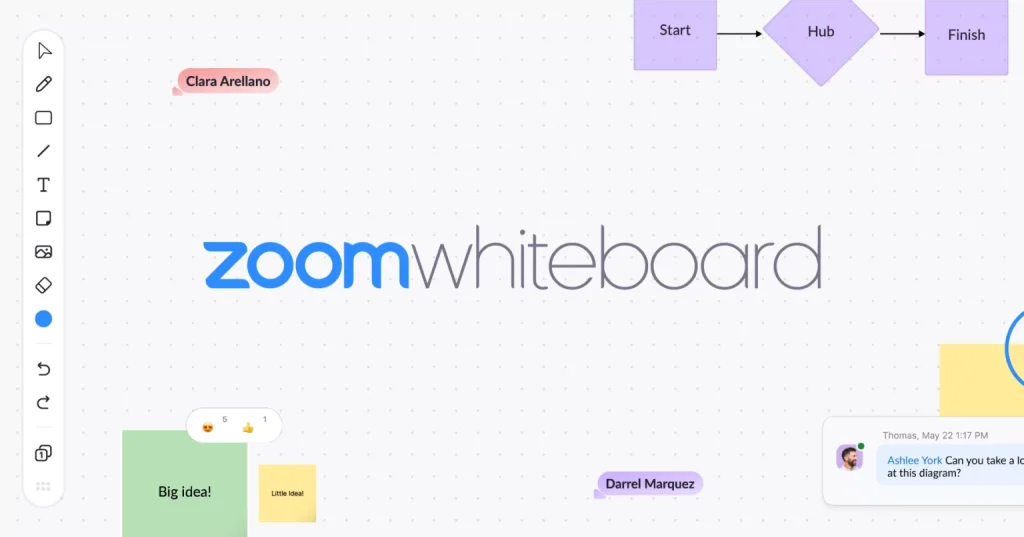 Source: Zoom
Allow Your Event Attendees to Collaborate
With Zoom Whiteboard, you can leverage a unified space for collaboration. Bring your in-person and virtual attendees together and enable them to visually structure their ideas by collaborating in real-time on persistent online whiteboards.
Make Your Ideas Come Alive with Virtual Streaming Tools
The Zoom Whiteboard offers a set of intuitive features that help attendees dynamically collaborate, and brainstorm ideas. Make the best use of advanced shapes and connectors, adding, dragging, and dropping images, sticky notes, messages, and more.
Seamless Access to Zoom Whiteboard
Zoom lets you access your saved Whiteboards any time, and on any device you want, during or outside a meeting. Whiteboards are saved automatically. You can create and access your Whiteboards in Zoom Rooms, no meeting is required.
Easy Sharing Options
Zoom lets you easily share your online Whiteboards with other Zoom users. Provide instant access to collaboration projects with intuitive sharing controls.
Getting Started with Zoom Whiteboards
Zoom Whiteboard configurations can be handled by admins from the web portal. Settings include options for in-meeting and out-of-meeting whiteboards, as well as sharing options.
Zoom Whiteboards are enabled by default for most accounts, but can be toggled on or off for certain users or the entire account.
For information on how to enable Zoom Whiteboard for your account, click here.
About Team EVA's Virtual Techs
Team EVA loves learning, evolving, and sharing as we go along, so that meeting planners and associates can make the most out of EVA's all-in-one events management platform. From keeping up with the latest streaming technology to recommending useful tools for meeting success, Team EVA helps its clients every step of the way.