Virtual Conference and LMS Integration: How to Extend Conference Content
Each platform has its own longevity, whether it is a virtual conference, learning management system, association management system, or any other. Most associations are looking for ways to maximize the time spent by members on their portal so that they can engage and cater to their needs better. By using a smart virtual conference platform, associations can host meetings and engage with attendees. Still, one of the best ways to increase member engagement and non-dues revenue is to make the content live beyond the meeting dates. The question is "How?"
In this blog, we will talk about the integration between virtual conference platforms and learning management systems (LMS). You will learn the benefits of integrating the systems, the factors to consider while implementing, and how an integration opens doors to monetizing your conference/LMS content. So let's get started.
Why Consider an LMS?
The interest in online learning is skyrocketing, and so is the revenue. If you are an association, it is highly likely that your members are looking for professional development courses from your accredited conferences, meetings, or classes. This is where virtual conference platforms and learning management systems come together to deliver an optimized learning experience to members that adds value and drives non-dues revenue for organizations.
Google search volume for online courses increased by 100% during the pandemic.
The worldwide e-learning market is expected to be worth 325 billion by 2025, which is nearly double the growth we have seen in the last decade.
[Source: The Rise of E-Learning in 2020]

Virtual Platform vs. LMS: What's the Difference?
A virtual platform is primarily about providing real-time attendee engagement in virtual and hybrid events. Most platforms offer networking and engagement features like gamification, AI-matchmaking, and networking roundtables, using which sponsors and exhibitors can connect with the right people at the right time.
An LMS or learning management system delivers content to users and enables them to track continuing education units (CEUs) so that they know where they are in the learning curve. An LMS can also auto-recommend courses to develop a personalized learning path for users based on their role, interests, and course history.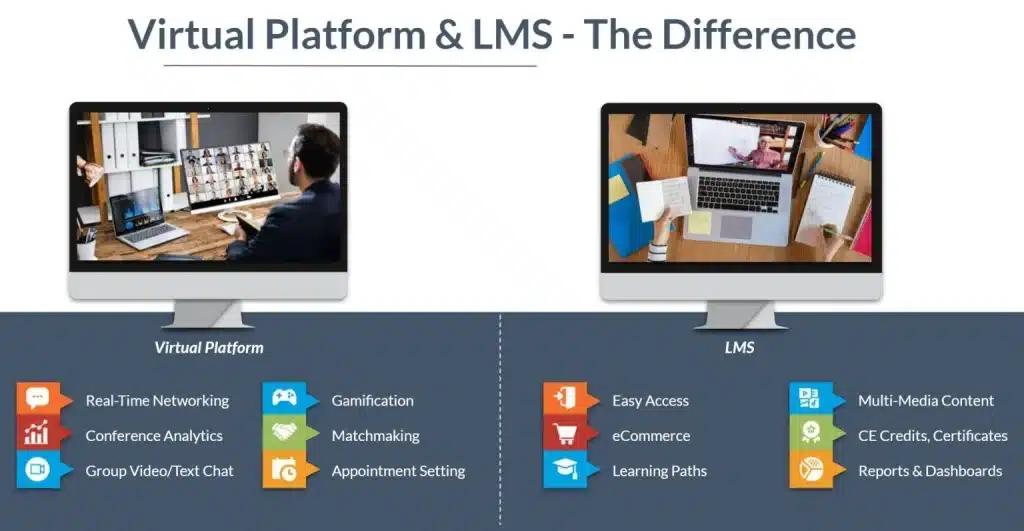 Integrating Virtual Conference and LMS: The Benefits
Access Virtual Content On-Demand
Recorded meetings and conference sessions usually expire 90-120 days after the meeting is over. Many associations think that these sessions can be developed into a learning path based on the role and profession of the user. While a virtual conference platform can host and record meetings, these sessions can be imported into an LMS to make the content live for as long as you want. This allows members to access the virtual content on-demand at their convenience, eventually delivering them the value they are always looking for. Therefore, an enhanced member experience is assured for sure.
Track CEUs
Many associations offer CEU credits for attending their meetings, conferences, or webinars. When both the systems are integrated, you can sync data between the virtual conference platform and the LMS. You can enable your members to track CEUs so that they can see a record of online sessions they attended and the credits associated with each session. This gives your members an idea of what sessions to look forward to in the future and how many credits they can earn by attending the sessions.
Reporting and Analytics
Integrating a virtual conference platform and an LMS unlocks the potential to achieve more with data. On the one hand, you have the data from your meetings and conferences (event data), and on the other, you have the data from the LMS (learner data). When you merge the data from both platforms, just imagine the range of integrated reports you have access to. The LMS can use this data to recommend specific courses to learners based on their preferences and course history and form a personalized learning curve, all using the power of AI. You can even set up a survey and use the results to the associations' benefit to constantly improve the content quality.
Monetizing Your Conference Content Through LMS
Best learning management systems allow organizations to sell their content through the learning platform. In terms of integrating with a virtual platform, associations can look to record their conference sessions and sell them as virtual content on the learning management system. This helps associations with non-dues revenue by monetizing their educational material. Here are a few ways to price the conference content.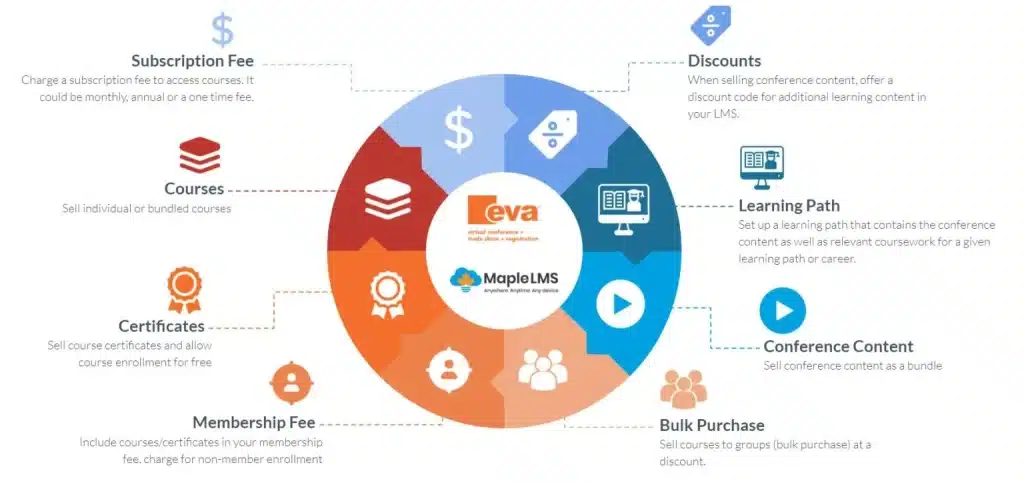 One of the notable ways is to sell your course as a bundle. You can also add a subscription fee either on a quarterly, monthly, or annual basis. Certification is another way to offer your course to users. You can sell your course in the form of certification and add the course content for free.
Offer discounts upfront for new buyers. Give them a discount on future courses to entice them to purchase more and return to the LMS.
Non-dues revenue is just one portion of the integration benefits. Now let's talk about how to seamlessly integrate the two platforms.
Data Points to Consider While Integrating
It is easy to collect and look at all the data, but from an association or meeting planner's perspective, it only makes sense if you are actually searching for something specific. That is your starting point. With the data that a virtual platform collects, like the number of website visits, attendees connecting with each other, polls, and surveys, it all comes down to what data is flowing to the LMS. For example, how you can relate the virtual platform and LMS data of a non-member, and based on the data, what steps you can take to entice the non-member to become a member. Before you start the process of integration, take a step back. Evaluate what your data looks like right now, and select the data sync scenario that suits your needs.https://www.youtube.com/embed/UPfoX-KHDLUFrom an LMS standpoint, associations can track the course progress, CEU credits, and certifications. So these data points are important to consider when you plan for integration.
Just because you are collecting data, it does not mean that you have to sync all the data between the platforms. You should visualize and list out the data points and scenarios, depending on the specific purpose you are integrating. Check out this video to learn more about assessing the engagement data points:https://www.youtube.com/embed/TN9TykGmDOM
Virtual Conference and LMS Pre-Integration Checklist
One of the easiest ways to get started with your integration process is to have a handy checklist that lists the areas that need attention before the actual integration starts. Here's a checklist that can prepare you for a virtual platform and LMS integration: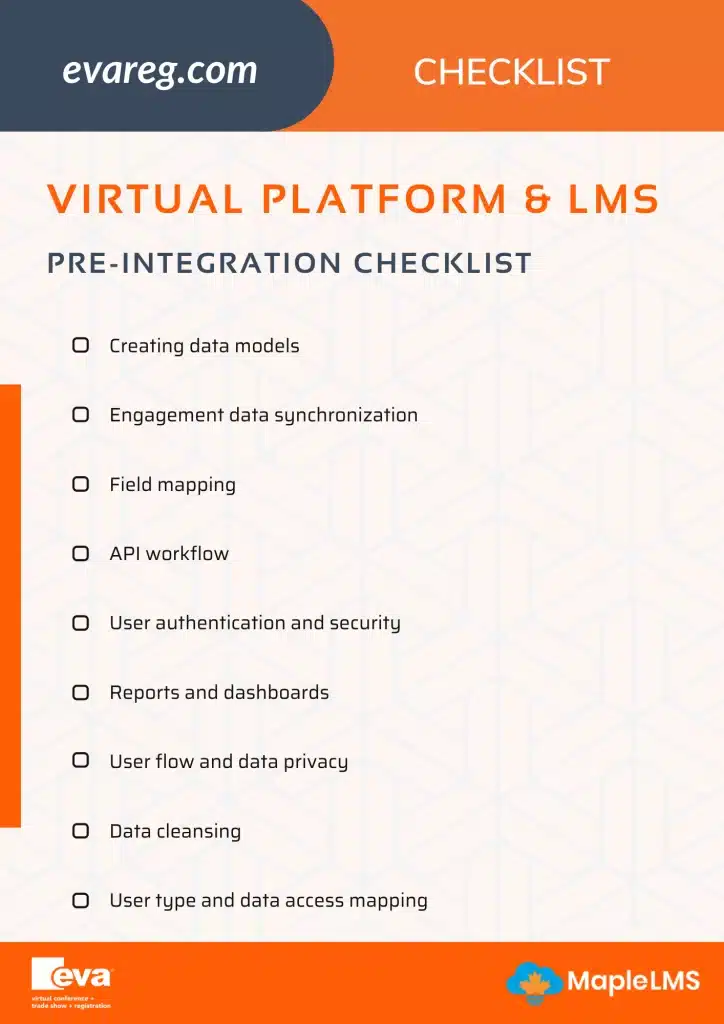 From visualizing and assessing the data points to synchronizing the data, mapping the fields of both platforms, and customizing the reports based on the association's needs, this checklist helps you take care of all the key factors to look into before you integrate. You can download the above checklist and keep it handy to smoothly integrate your virtual conference platform with a learning management system.
Additionally, you can tune into the Virtual Conference and LMS integration on-demand webinar to hear from EVA's meeting advocate, Vinnu Deshetty, and Matt Peterson from MapleLMS. They walk you through the entire pre-integration process and help you prepare for it. The better you prepare for the integration, the more you can make out of it.
Once you have integrated your virtual conference platform with an LMS of your choice, make sure you follow these tips and best practices for making the integration work like a charm:https://www.youtube.com/embed/eXWFM1pQkJk
Deliver More Value with EVA and MapleLMS

EVA seamlessly integrates with MapleLMS, a leading learning management system, that bridges the gap between attending live conferences and accessing course content through separate systems. By integrating the two platforms, you can record your conference sessions, add them to the LMS and allow members who missed an event to access the on-demand content, all from one single system. Bring in event data like attendee engagement, session performance, sponsor/exhibitor ROI from EVA's virtual platform and marry it up with real-time course reports from MapleLMS. Improve meeting experiences and derive a personalized learning path for each member with detailed analytics from both platforms. Learn more about a virtual conference and LMS integration.