Delivering Maximum Value with Your Virtual Trade Show
Virtual trade shows had a consistent level of interest in the 2010's. Some associations viewed them as an intriguing opportunity – something to "put on the radar." The pace of adoption was steady but slow. Figuring out how to deliver value to exhibitors often raised more questions than answers.
That all changed in 2020. In-person events were postponed, canceled, or moved to a virtual format due to the COVID-19 pandemic. Associations that once relied heavily on the revenue generated from a bustling exhibition hall at meetings were left scrambling to see how they could salvage that income.
Enter virtual trade shows. Associations scrambled to find how they could take a historically in-person concept and bring it to the virtual arena. Google Trends observed a significant increase in search volume in March 2020. And, if Google tells us anything, it's telling us interest in virtual trade shows is here to stay.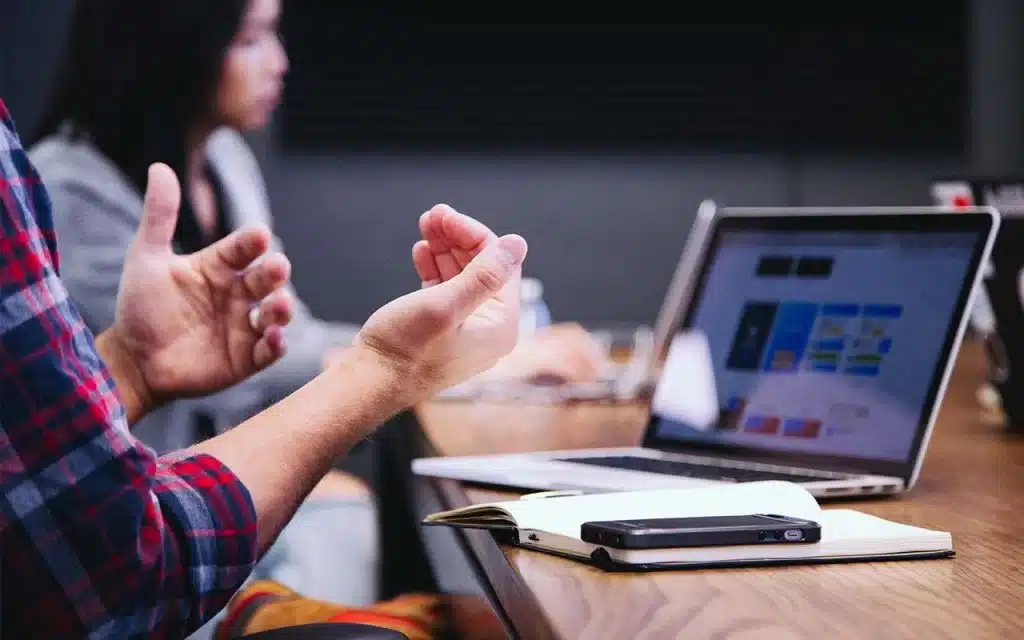 So, What is a Virtual Trade Show?
Simply put, a virtual trade show is the digitized version of the grandiose exhibition hall associations have come to know. Exhibitors can show off their products and services to meeting attendees, network, generate high-quality leads, and in some cases, even close deals.
Some platforms, like EVA, go the extra mile to ensure attendees fully engage with the company's virtual booth.
Concerns About Virtual Trade Show
Let's address the elephant in the room. In 2020, when many associations weren't prepared to go virtual, they were thrust into action. And, a digital metamorphosis that once moved at a deliberate pace went into overdrive.
Questions arose from meeting professionals and exhibitors alike regarding how they could have the same impact on attendees and drive the same amount of leads and deal flow.
Event marketing teams wondered how they would set their booth apart from others. Was the once meticulously crafted to express the brand being reduced to a cut-and-paste, one-size-fits-all environment?
As time has passed, virtual event platforms have looked to solve these concerns and provide an experience that is similar to, and in many ways more accessible than, an in-person exhibit hall.
Event platforms like EVA have adopted a model where virtual and in-person events and tradeshows complement each other, and have rolled out all-in-one solutions to emphasize the best of both worlds.
Limitations of a Virtual Trade Show
Virtual trade shows are a critical component of the event landscape in 2022. And, as times and attitudes change, some of the perceived cons of virtual trade shows may soon turn into positives.
Some of the most common concerns we hear about virtual trade shows are:
Missing the Face-to-Face Interaction
There's something satisfying about making a new connection or sealing a deal with a handshake and eye-to-eye dialogue. Given the opportunity, most sales or business development professionals would like the opportunity to make a one-to-one connection with a prospect to get the lead or establish a meaningful working relationship. However, as generations become more accustomed to digital communication, there is a shift occurring in sentiments toward digital-first sales.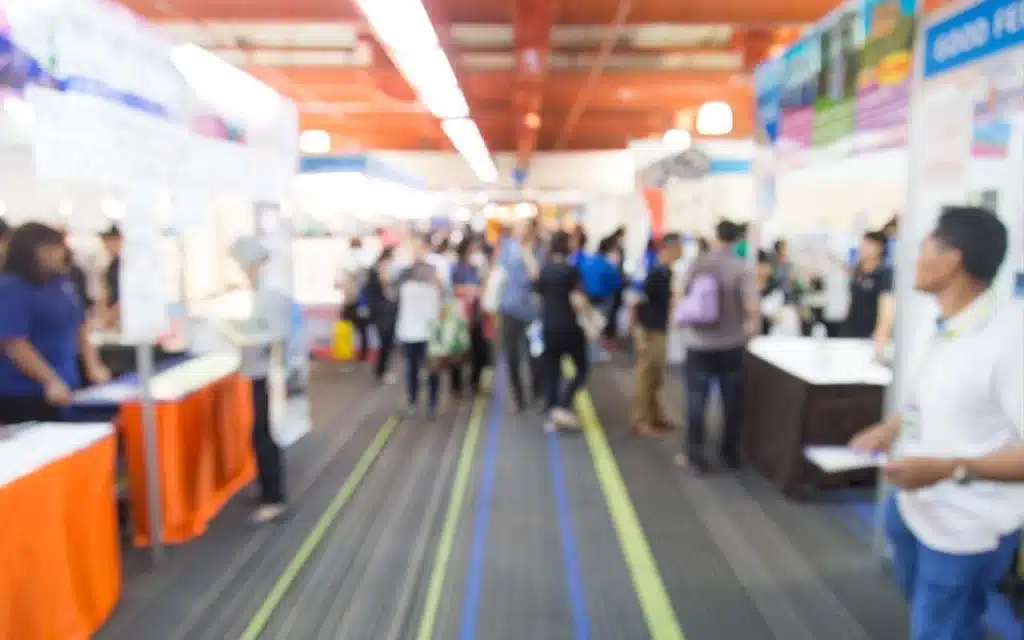 Tough to Replicate Majestic Booths
The exhibitors who put minimal effort into gussying up their booth may not note much of a difference. But, we've all seen the organization that put a lot of time and resources into their booth. Replicating that intricate design can be a challenge for any virtual trade show platform. But, platforms like EVA give exhibitors an opportunity to customize their booths and display their brand according to their standards.
Competition for Attendee Attention Increases
Things just got serious. It can be tough enough to lure someone to your booth away from competitors on the floor and away from sessions at the meeting. Now, the competition is even more daunting. Between sessions, attendees aren't confined to an expo hall or hotel – they may already be at home.
Your new competition includes mowing the lawn, taking care of children, and reruns of Judge Judy, just to name a few. Developing the value proposition for getting individuals to your booth is more important now than ever.
Limited Opportunities to Exchange Branded Swag
Branded swag is one of the best ways to keep your brand top-of-mind for an attendee. Giving a branded tumbler or USB helped your brand at least register in the attendee's minds each time they poured an iced coffee or started a data transfer. Plus, it was a good way to draw onlookers in.
That said, opportunities to provide high-quality branded swag still exist and can be used as an enticement for scheduling a discussion. Just make sure the giveaway is high-quality and worth the shipping.
Additionally, it helps keep your team's data centralized, avoid multiple account creations that can result in duplicate profiles, and can help your event meet the standards for security and compliance.
SSO is more than a "nice-to-have" feature of an event registration platform. For organizations who are looking to deliver a first-rate event experience, it's something that should strongly be considered a must.
Benefits of a Virtual Trade Show
Now that the cons are out of the way, there are actually numerous benefits to conducting a virtual trade show. Society and the expectations of work travel have forever shifted, at least to some degree. Those new norms make virtual trade shows an attractive option for attendees.
More Potential Booth Visitors
If you're an organization that historically goes all out for booth design and exhibit presence, your glass just got poured half full. Because the cost to exhibitors is greatly reduced, most organizations see a higher return on investment from virtual trade shows.
Reduced Cost and a Greater Return on Investment
If you're an organization that historically goes all out for booth design and exhibit presence, your glass just got poured half full. Because the cost to exhibitors is greatly reduced, most organizations see a higher return on investment from virtual trade shows.
Ease of Knowledge Transfer
The right virtual trade show booth can include videos, digital copies of literature, and other multimedia that make it easy for someone to bookmark, print, or store away. You save on the printing costs, and the pamphlet likely doesn't get left in a hotel or convention center trashcan by an attendee trying to shed weight for their carry-on.
Opportunities to Schedule One-on-One Conversations
How many potential leads walk past booths because the sales reps are all busy? In our experience, a lot! With the right virtual trade show booth, attendees can schedule one on one time with company representatives to get focused attention. That focused attention and intent from the attendee to schedule can result in more qualified leads.
Data Galore!
Has anyone had this conversation about their in-person booth before?
Person 1: How was traffic to the booth today?
Person 2: Pretty good. We got some pretty good foot traffic.
Now, contrast that with a virtual trade using a platform like EVA that tracks robust analytics:
Person 1: How was traffic to the booth today?
Person 2: It was great! We had 475 visitors who stayed for an average of 5 minutes 31 seconds. We also had 76 people view our demo video, 112 download our product catalog, and 18 people had one on one conversations with a salesperson. That shows historical growth in every metric compared to last year.
Designing the Optimal Virtual Trade Show Booth
The right virtual trade show provider can provide great value to an exhibitor. Companies who put more thought and effort into designing their virtual trade show booth are much more likely to reap benefits. The following are some surefire steps for designing your virtual trade show booth for maximum benefit to exhibitors.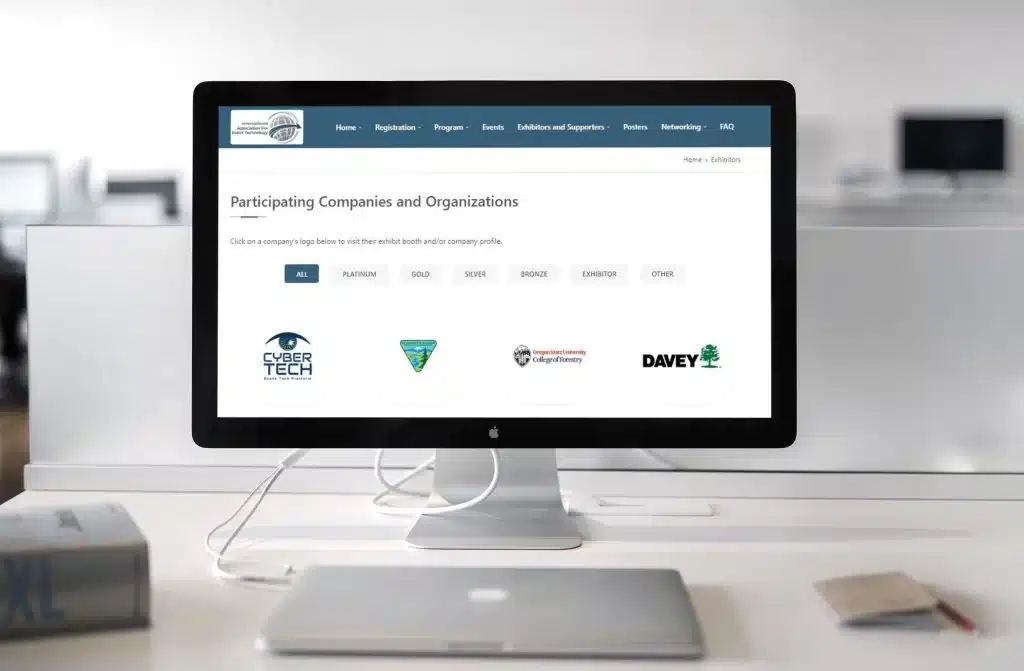 Customize Your Virtual Trade Show Booth to Fit Your Brand
Give significant thought to how your brand is being presented in the virtual trade show booth. Be sure that you include your organization's logo, colors, imagery, and tone of voice wherever applicable.
Display Meaningful Videos for the Show
Some virtual trade show platforms allow you to use video in the trade show booth. One way you can go the extra mile is by creating thumbnails or end cards for videos that align with the event you are presenting at. A small investment into the video editing budget can help show attendees that you've customized your offerings for their event.
Invite Attendees to Chat with Exhibitors
One of the benefits of the virtual trade show environment is the possibility of attendees having access to exhibitors in real time. Ensure that your booth showcases the option for your visitors to get in touch with a representative.
Leverage Gamification
Engaging attendees with gamification isn't exclusive to in-person meetings. Determine what types of gamification tactics your virtual event platform will support. Quizzes over the information in the material for a prize, a scavenger hunt through the meeting, or invite additional people to the booth. Figure out a way to engage attendees and drive interest meeting-wide!
Make a Clear Call-to-Action
Last but not least, make sure your virtual trade show booth has a clear call-to-action with your material. Are you trying to generate leads? You'll need a lead magnet. Are you trying to drive one-on-one conversations with representatives? You'll need to make it easy for attendees to do that. Are you simply trying to generate brand awareness? You'll need to do something that sticks out from the crowd.
Closing Thoughts on Designing a Great Virtual Trade Show Experience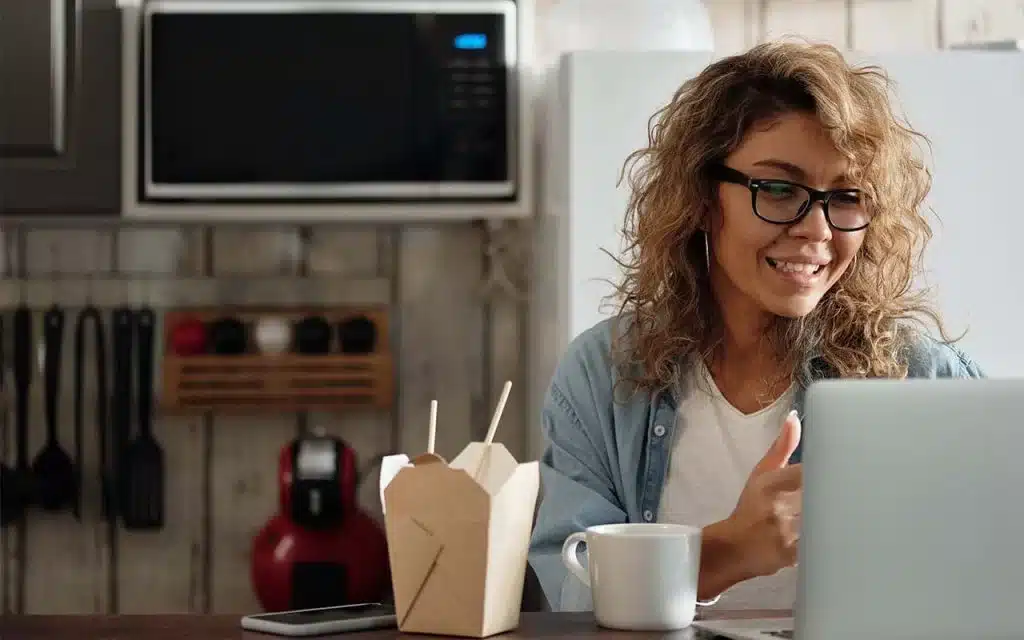 Virtual trade shows are here to stay. Whether they will replace in-person trade shows or serve as a supplement, only time will tell.
Designing a virtual trade show booth is part art and part science. You'll need a virtual events platform, like EVA, that can support a robust virtual tradeshow experience for attendees and exhibitors alike.
So what's the best way to design a virtual trade show booth? You'll first want to follow the best practices listed in this article. Look at the data and make modifications based on your attendee engagement.
We also recommend doing as much research on other great looking virtual booths and determining how you can replicate them. As virtual events rapidly evolve, so to will virtual trade shows. Continuing education on best practices is essential, as is working with a platform that has an eye to the future.
Interested in learning more about how EVA can help you take your virtual trade shows to the next level? Book a demo today and get started wowing attendees, exhibitors, and sponsors with a customizable, optimized experience!