Enable attendees to meet and chat in real-time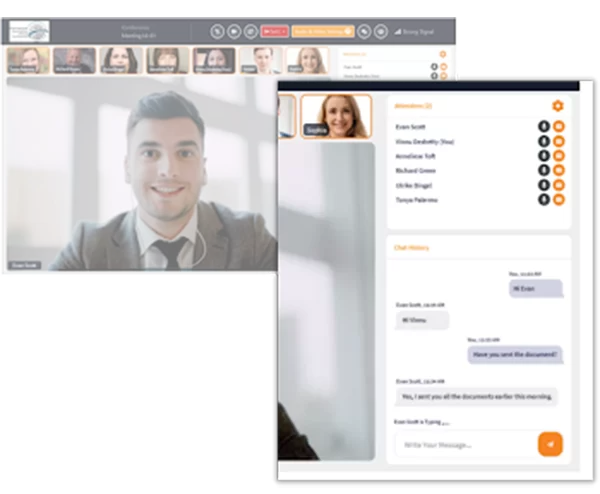 Real-time Video and Text Chat In-Platform for Attendees
EVA's virtual conference platform built for effective communication and engagement between attendees, speakers, poster authors, and exhibitors/sponsors, lets your attendees directly connect with one another using video and text chats. Attendees can easily choose to participate in a group conversation or connect 1:1 with any specific attendee/exhibitor. With EVA's virtual platform, connecting and collaborating hassle-free via engaging communication features like real-time 1:1 video and text chat has never been easier.
Enhance attendee engagement experience through real-time communication with EVA's built-in attendee interaction tools.
Keep the Conversation Going for Attendees
EVA's virtual platform uses the best technology to ensure seamless connectivity for a fast and smooth live chat experience. This plug-and-play chat feature can help users connect in real-time and serve multiple purposes. Here are some use-cases:
Attendees can connect with presenters or exhibitors to collaborate on a future topic
Students can reach out to their mentors via video or text chat
Attendees can connect with fellow attendees to discuss a specific topic
Host exhibitor thought leadership sessions
Attendees can participate in poster session forums
Speakers can connect with each other – meet and greet sessions
Make Connections Seamless with EVA
Bring in-person and virtual attendees together with instant 1:1 video and text chat. See for yourself.