Drowning in Data? Focus on These 5 Key Event Data Points That Affect Your Whole Association
We are all drowning in data! Data is pouring in from every platform ranging from an AMS to community platforms. With the gaining popularity of virtual events, associations now have a new layer of data that they've never collected before. No, event data is not new. Yes, there seems to be a lot more of it. Gone are the days when event data stays in its registration silos. Associations want to know what to do with data that can provide them insights that can help the entire organization. This session will focus on what event data points are the most beneficial to associations. We will explore how to utilize event data to make key strategic decisions that can help you achieve enhanced member engagement and experiences that attendees keep coming back to.
In this webinar, Vinnu Deshetty, the Founder and CEO of EVA – Event Tech Hub is going to talk about all the event data that associations should expect from their platform.
Key takeaways from this session:
Event data points associations should be collecting
What insights can the whole association gain from event data
Benefits of having a pre-analyzed dashboard
Who should attend
Executive Director/CEO
Membership Team Members
Meetings/Conference Team Members
Meeting and Conference Planners
Chief Technology Officers (CTOs)
Chief Information Officers (CIOs)
IT Directors
Marketing Directors
Membership Directors
Participants get .5 CAE credit for attending. CAE credits issued by .orgCommunity.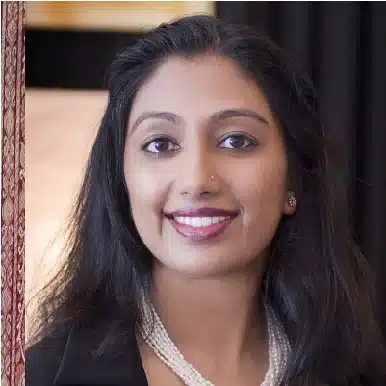 Vinnu Deshetty, CEO and Founder, EVA Event Tech Hub
Connect on LinkedIn
Vinnu Deshetty is the Founder and CEO of EVA – Event Tech Hub helping clients embrace digital tools that improve their attendee experiences while making the meeting planner's job easier. With over 25 years of meeting and conference planning experience in the association and nonprofit industries, Vinnu brings a unique understanding of both the tech and event planning worlds. Vinnu focuses on making tech accessible and productive for meeting planners. She leads development teams to bring a sense of humanity to AI development making EVA's technology a reality that is easily implemented and activated. Raised as a coal miner's daughter in western Kentucky, Vinnu stays true to her southern roots by valuing community in both her personal and professional lives. She obtained a Bachelor of Science from Vanderbilt University and a Master of Public Administration. Vinnu now works and resides in the Washington, DC area.

.orgCommunity provides education that is unique, actionable, and relevant. We seek out presenters who shine a new light on challenges and opportunities in the association space and far beyond.
As an approved CAE (Certified Association Executive) provider for the American Society of Association Executives (ASAE), .orgCommunity's programs meet all annual CAE requirements at one low cost. The number of CAE credits granted for full participation will be clearly identified for every qualifying program. .orgCommunity will maintain records of your participation in accord with CAE policies. For more information about the CAE credential or Approved Provider program, please visit whatiscae.org
EVA makes meeting and learning online easy, productive, and memorable with the latest event technology tools. We have learned a lot throughout our journey and would love to share the best practices and lessons with event and meeting planners. Our webinars provide you with the right set of "event tools" in the form of tips, recommendations, and lessons learned to optimize your event experience further and cater to a wider audience.