If you attended our session at ASAE Annual 2022 in Nashville, here are the resources I promised. We've gathered resources from the speakers and our partners to help you with your journey in conquering all your data. Thank you for letting me be a substitute speaker. I enjoyed hearing about the interesting scenarios ranging from duplicate applications to managing your boards. I hope that the few event data tips I could share gave you a sneak peek into how one department's data can make an impact throughout the entire organization.
If you could not attend but are curious about data, I hope these resources provide you with some tips and insights about data cleansing and management. If you don't have the budget for data lakes, no problem! There are steps you can do on a routine basis to get the data in a place where it can provide valuable insights.
Happy reading!
-​Vinnu Deshetty, CEO & Founder of EVA – Events Management Platform
Realize Data Lake Dreams on a Beer Budget
ASAE Annual 2022 Session
Associations are abuzz with the value of data lakes and warehouses to store retrievable data and call it up for intense analytics and reporting. But let's face it—most associations simply don't have the dollars or time to maintain those options. What options are out there to help you live champagne dreams without ruining a less-than-champagne budget? Explore the various choices and which ones are better suited for which situation/circumstances, including some you might have at your fingertips already and just don't realize.
What is a Data Lake
A data lake is a storage repository that can rapidly ingest large amounts of raw data in its native format. This allows business users to quickly access the data and can apply analytics to get insights. A data lake is typically chosen for storing unstructured big data like tweets, images, voice, and streaming data. However, it can be used to store any type of data from any source, any size, any speed, and any structure.
People often confuse the term "data lake" with "data warehouse". Read this article to learn the difference between data lakes and data warehouses, and understand the concept in technical terms.
In our presentation at ASAE Annual 2022, Vinnu Deshetty, CEO and Data Advocate at EVA – Events Management Platform shared this YouTube video that explains Data Lakes – What is a Data Lake?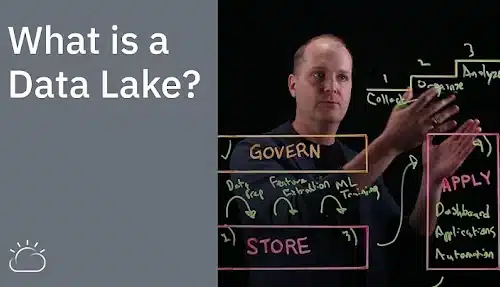 What if You Can't Afford Data Lake?
There's nothing to worry about! You can still ensure that your data is in good shape.
The data lake is a relatively new term in the association and space and it is quite natural to wonder if you want to implement it in your association.
As Byron Smith (Senior Director of IT and Operations at the Association for the Advancement of Blood & Biotherapies (AABB)), Barbara J. Armentrout (CAE, managing partner of Mesa Group), and Rajeev Gupta (Salesforce developer with Aplusify) recently quoted in the ASAE Annual Meeting & Exposition –
"Associations need to constantly analyze and evaluate the data that is collected for different business lines and units to identify what can and must be shared, recycled, and reused for multiple purposes."
Barbara's List of Useful Articles and Tools on Association Data Management and Utilization
Barbara J.Armentrout, CAE shares a list of tools and articles that can help meeting professionals learn more about the importance of data and data lakes in the events industry.
Here is a list of all the top articles hand-picked by Barbara:
This article highlights the top considerations that associations should keep in mind when deciding what kind of software to use – AMS (Association Management System) or MMS (Membership Management System).
Before jumping on conducting a survey for assessing member needs, take a step back and try to learn their preferences. This article talks about doing some preliminary work to lay the groundwork for an effective needs assessment. Discover the five important steps.
This is a case study article from Associations Now that explains how Auto Care Association improved digital experience and access to information about its tools, resources, products, and services to meet mutually beneficial outcomes for its members as well the association.
There is no one-size-fits-all approach when it comes to association technology. In this insightful article from ASAE, learn the considerations in creating a holistic ecosystem of tools for housing data and providing member services.
This article focuses on the importance of updating your technology platform to the latest version. It may seem like you are saving money by delaying an update or a fix, but you might incur bigger costs later on. Learn what the top speakers at the ASAE Technology Exploration Conference had to say.
"Launched by the global data analytics leader Qlik, the Data Literacy Project includes founding partners Accenture, Cognizant, Experian, Pluralsight, the Chartered Institute of Marketing, and Data to the People – along with academic thought leaders.
Together we aim to ignite discussion and develop the tools we need to shape
a successful, data literate society."
#7: On-Demand Webinars about Data Cleansing and Management
Here's a list of on-demand webinars from Aplusify – Salesforce Consulting Partner that talk about data:
All these webinars are available for free.
#8: Resources from Bear Analytics
Event planning and strategizing are now more complex than it was pre-2020. In this article. Joe Colangelo from Bear Analytics explains the relationship between predictive analytics and uncertainty in events, and what role data can play in improved decision-making.
Here are other articles from Bear Analytics that you might find insightful.
a. How event organizers are re-engineering gut instinct
"Today's gut instinct isn't as relevant", says Joe. In this blog, Joe talks about how pre-, during, and post-event data are considered to be the building blocks of new "Future" best practices.
b. Company Loyalty is your event's most important metric
Retaining current attendees and attracting new attendees equals event growth. Joe shares 4 impact areas where you can operationalize your event's company-level loyalty.
Still Have Questions?
Reach out to the association, data and crm/ams tech professionals in ths blog.