Dedicated Space for Attendee Engagement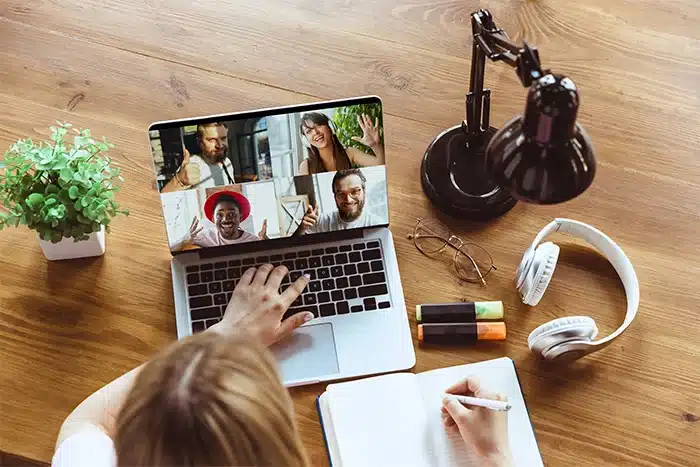 EVA provides a dedicated virtual space where attendees can gather to network, collaborate, and innovate. Whether it is a roundtable discussion, workshop, or casual networking room, attendees can join peers in a virtual room at a dedicated time with a dedicated purpose. Much like in-person meetings, attendees are looking to engage with other attendees outside of informative plenary and breakout sessions. Give attendees a space where they can come together to discuss the conference topics, challenge ideas, and explore ways to collaborate.
Making Networking Rooms Appealing
In a virtual conference platform, there are many activities for attendees. Messaging and formatting are keys to capturing attendees' interest. EVA's networking rooms offer a variety of ways to display your networking rooms: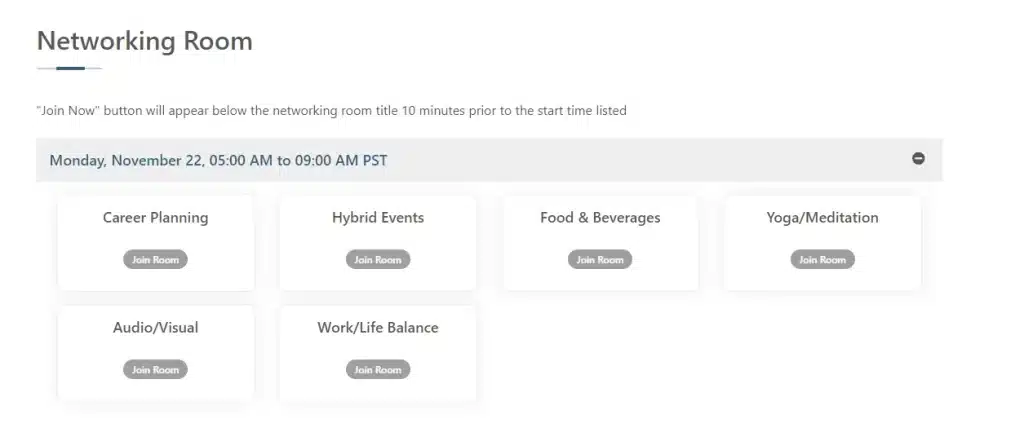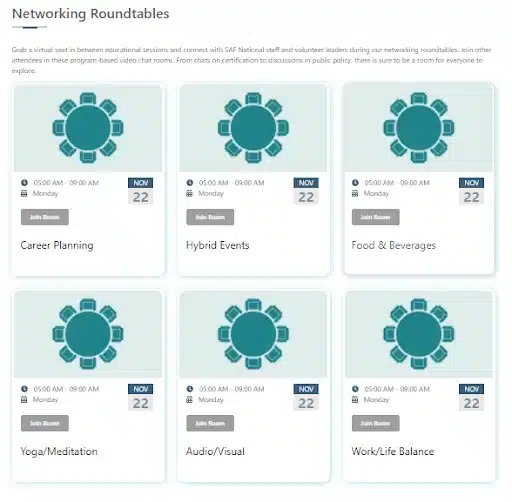 Once an attendee is logged into EVA, they can easily join an EVA Virtual Networking Room. It is as easy as clicking the "Join Now" button! Attendees can easily navigate to the rooms via timed notifications on the virtual platform or by navigating to the Networking Rooms page. EVA offers multiple options to assist attendees in navigating their virtual conference experience.
Leverage the Power of Virtual Networking Rooms
Exhibitor Thought Leadership Sessions
Roundtable Discussions
Meet & Greet Speakers
First Time Attendees Reception
Mentor/Mentee Intros
Chapter Meetings
Poster Session Forum
Sponsor Network Lounge
Use Breakout Rooms for Better Engagement
Use EVA's virtual networking roundtables as breakout rooms. Encourage attendees to collaborate and engage with the right people for meaningful discussions. Learn from industry experts how you can leverage breakout rooms to break away from the typical "sit and learn" model and encourage attendee participation.
EVA does not charge additional fees for setting up Networking Rooms and Roundtables for your online, in-person, or hybrid events. You can set up as many rooms and roundtables as you want without any restrictions on the number of attendees joining in each room or roundtable session. All the cost is already included in EVA's Base package.