One of the most pressing exhibiting challenges today is producing ROI. While exhibitors are adjusting to different meeting formats, from in-person trade shows to hybrid events to virtual conferences, the challenge of finding qualified leads can seem daunting. Fortunately, event platforms understand the evolving needs to meet exhibitor ROI targets and are delivering products that drive results.
But, to understand the need to pivot to strategies that are proven to benefit exhibitors, some stats are needed. According to Statista, exhibitor revenue has decreased an alarming 37.9% from 2019 to 2022. While much of that could be attributed to the COVID-19 pandemic, indications show that it hasn't fully rebounded in the aftermath. That pain is mutually felt by the exhibitors and the event organizers alike.
Now, event organizers must become skilled tacticians at providing products, services, and counsel that generate a return on investment. Doing so will build meaningful relationships and kickstart exhibitor success.
In this post, we will discuss three actions you can implement to help exhibitors boost ROI. Plus, you can gain additional insights by downloading EVA's Guide to Deliver Greater Exhibitor ROI Using Your Event Platform.
So, let's get started.
DOWNLOAD: Deliver Greater Exhibitor ROI Using Your Event Platform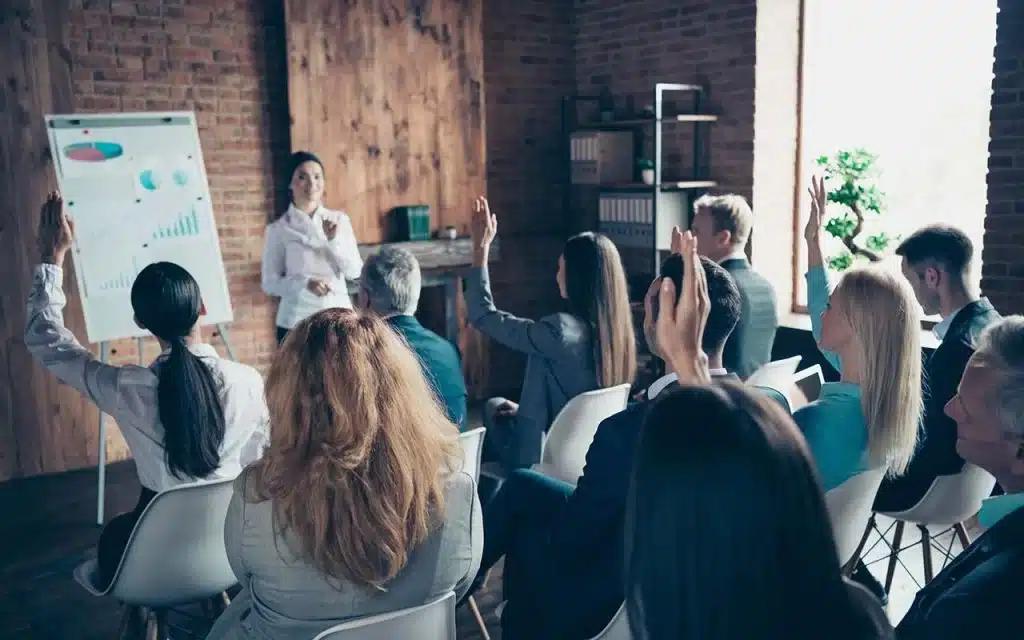 Expertise beyond the trade show exhibit
Let's face it, oftentimes some of the best experts at a conference are sitting on the trade show floor. They typically provide a niche service that addresses a major pain point event attendees. So, it's useful to attendees and exhibitors to provide them with a platform to easily share that expertise.
The value of allowing your exhibitors to provide thought leadership is profound. A B2B Thought Leadership Impact Study showed that 64% of respondents viewed thought leadership as a more trustworthy basis for assessing a vendor than their marketing materials or product sheets.
It only makes sense to move your exhibitor experts into positions where they can share ideas directly with attendees. Whether you decide to feature exhibitor content as a separate exhibitor track or give them the ability to present their knowledge within the bounds of an existing learning track, they'll be able to make an impact with potential customers.
You'll not only be providing enhanced opportunities for exhibitor ROI, but you'll benefit attendees. The data shows that attendees want good thought leadership from exhibitors. It's a great opportunity to meet the event's main goal of providing value to attendees and can draw people into the trades show booth after the presentation.
Cut Through the Clutter with Targeted Leads
Wondering why exhibitors are willing to go through the effort to put on a high-production trade show event? Probably not, but we'll spell it out anyways. They want leads! According to a recent study by CEIR, 68% of exhibitors rank lead generation in their top three objectives. But, if getting leads was the only objective – they'd all be raffling Corvettes for your business card.
The truth is, bulk lists of all trade show attendees would lead to nightmarish lead management. Finding a tool that can get targeted leads into the hands of exhibitors will no doubt boost the company's exhibiting performance. So, how can an event organizer ensure greater trade show ROI through targeted leads? We're glad you asked!
AI-Powered Matchmaking
Tools, like EVA's Event Tech Hub, can help match the right attendee with the right exhibitor. Based on the interests of the attendee, the exhibitor can access their target audience directly. This frees them up to schedule one-on-one meetings, promote their booth to the right people, and craft post-event marketing materials.
Matchmaking also makes it easier for the exhibitor to know who the decision-makers are in a given organization and target them directly. This often results in lead generation that can significantly impact return on investment.
Using Technology to Mine Hard Data
An event organizer who is using a platform that can effectively use data has a competitive edge. Whether you're trying to gauge attendee interest based on behavior or are doing competitive research, data is king.
Tools exist that can help exhibitors monitor the behavior of booth traffic in a way that can help them determine who is really interested, and who is just browsing. Harnessing these types of leads is crucial to a high ROI.
READ: 3 Key Metrics that Provide Data for Exhibitor ROI
And, while words like "data" and "ai-powered matchmaking" might elicit concerning overtones, they probably shouldn't. Using tools like these to your advantage is beneficial to attendees, as well. They can manage their schedule to create networking opportunities with the most relevant exhibitors. This leads to a sales process equipped to meet needs, not force a square peg in a round hole.
The key takeaway is to put your exhibitor's lead management at the forefront. The easier it is for them to interact with the right people, the better results when they measure ROI. Every trade show participant, attendee, and exhibitor alike benefits from targeted leads.
Exhibitors as Part of the Community
Many of the emerging areas of exhibitor success are off the trade show floor. One rising in popularity and relevance is allowing exhibitors to lead discussion forums. The CMX Commnity Industry Report cited 56% of organization leadership view communities as more valuable post-pandemic.
As more professionals are turning online to get their content, access is important to exhibitors. Access to a discussion forum allows the exhibitor to respond personally to questions from the participants. Additionally, it gives them an opportunity to promote the content of their exhibit program, drive traffic to their booth, and genuinely help out potential leads who have questions.
As an event organizer, having the ability to boost exhibitor ROI through communities is a must. It takes their engagement with your organization beyond the trade show floor. And, exhibitors will see the value when measuring ROI that leading a discussion had.
The Most Pressing Exhibiting Challenges Moving Forward
Hands down, the decline in exhibitor ROI over the past few years has been staggering. And, while there has been some correction to pre-pandemic levels, expectations of attendees have changed too. With more attendees interested in hybrid and virtual conferences after becoming acclimated, there is less physical traffic on trade show floors.
The good news is partnering with a good all-in-one event platform can help navigate the terrain and boost trade show ROI. With the proper management tools, exhibitors can maximize foot traffic within the in-person setting, and encourage attendees to participate in a virtual trade show.
More than ever, event organizers need to wear the hats of having exhibiting know-how and adequate tech-savvy to deliver value across a variety of channels.
EVA's Event Tech Hub is a platform filled with tools to help bring together meeting-goers and vendors like never before, delivering an optimal trade show in any format. Interested in learning more? Book a demo to see how EVA can make a difference for exhibitors in your next event.
Deliver Greater Exhibitor ROI Using Your Event Platform
Want more insights and additional great tips on how to enhance your exhibitor ROI and keep them coming back for more? Download EVA's guide, Guide to Deliver Greater Exhibitor ROI Using Your Event Platform.
Deliver Greater Exhibitor ROI Using Your Event Platform
Want more insights and additional great tips on how to enhance your exhibitor ROI and keep them coming back for more?